USS Belinda APA 22
by John Bange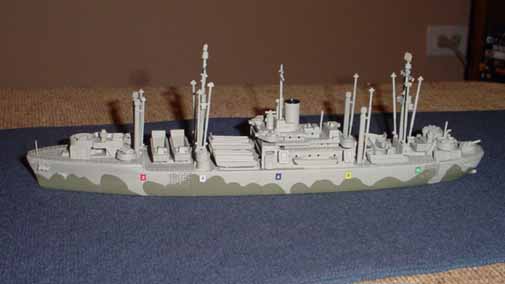 1/500 USS Belinda APA 22 (Revell Kitbash)
this is my USS Belinda aka Beachead Belinda. APA 224 cast as APA 22 in the movie Away All Boats.
It started out as a Revell kit of the USS Randell, which was in the movie. The kit was in 1/375 scale and I work in 1/500. I cut down the superstructure, lowering it and shortening the main deck. As with all of my conversions, I took some liberties with accuracy.
I cut all of the plastic railings of befor I assembled the bridge and replaced them with pe. There is not a piece of plastic rail on board. I thought the gun tubs looked better with quad 40mm's so I replaced them with some from a Lindburg kit I had. SC radar is from GMM.
If you saw the movie, you will remember the sailing sloop that Jeff Chandler had made. The bit of color in a rear landing craft is the Albatros. It had red tanabark sails which I have not yet been able to recreate. Disembarking nets are from screendoor.
---

© ModelWarships.com