AKS 33 USS Antares
by Bob Nandell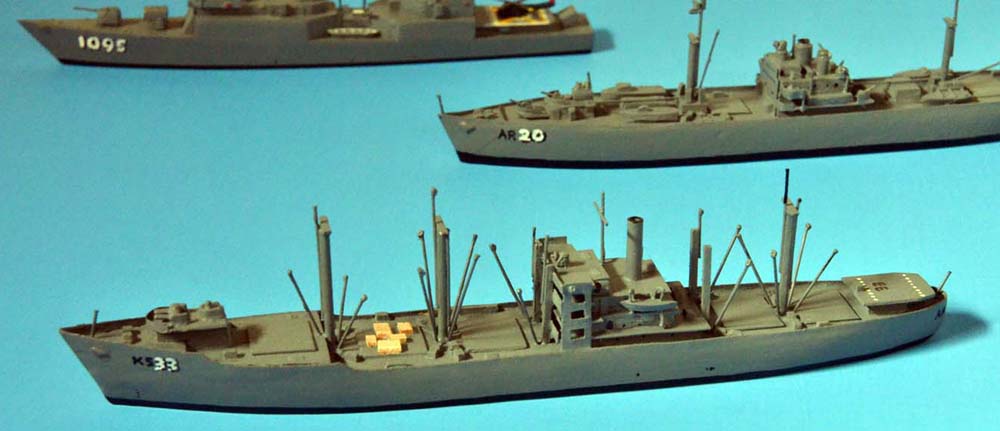 1/700 AKS 33 USS Antares (Scratchbuilt)
AKS 33 Antares started its life as a Greeneville Victory class ship in 1944 named SS Nampa Victory and was operated by International Freighting Co. during the last days of WWII in the Pacific. It effectively replaced a 1918-built 11-knot cargo ship named USS Antares. With a Naval Armed Guard crew on board the Nampa Victory earned battle stars participating in the battle for Okinawa.

In 1951 the vessel was acquired by the U.S. navy and re-named AKA-258 Antares, supporting combat ships in the Atlantic and Mediterranean and supporting ships involved in the 1958 Lebanon Crises. In 1958 Antares was modified to supply ships underway, with a small helicopter on its sterm, and in 1961-1963 served as a support ship for Polaris submarines at Holy Loch, Scotland. It was there my late uncle, CWO Donald Huffman, spent time aboard Antares assisting with missile parts unloading procedures at Holy Loch. After that service Antares sat in the James River Reserve Fleet until it was sold for scrap in 1974.

Supply ships and cargo variants of the Victory hull type simply don't exist in the kit world, so if I want to try building one, I work off old photographs and scratch build, using sheet plastic around a balsa hull plug, and build the rest out of whatever works. Victory Ship variants of WWII build are seemingly endless.

For a ship that served mainly 'background' roles throughout its long service life, Antares served long and well.
---
Gallery updated 2/16/2018


© ModelWarships.com