RMS Titanic
by Martin Quinn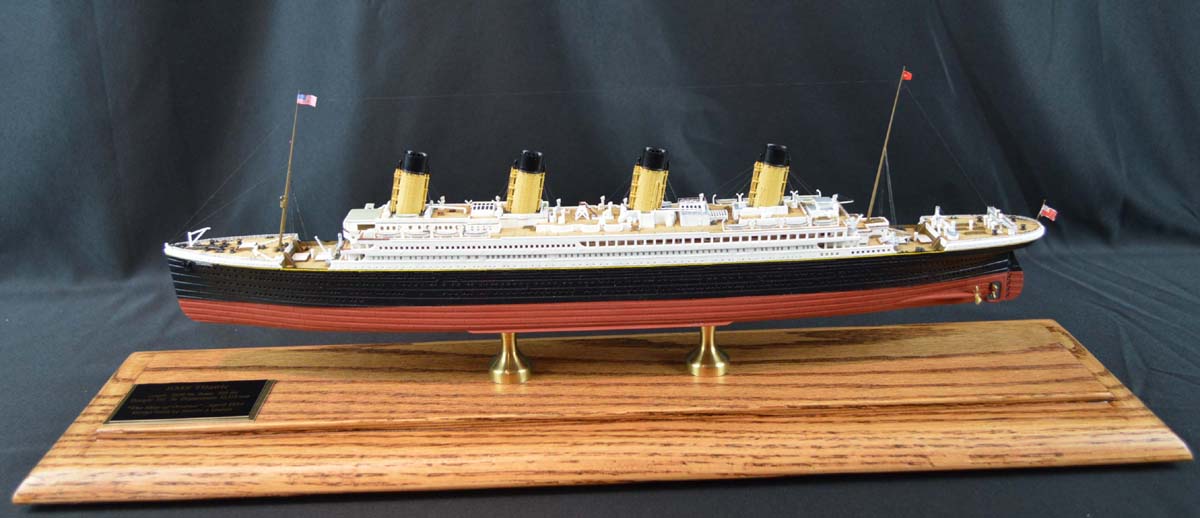 1/700 RMS Titanic (Academy)
Everyone has to build the Titanic at least once, right? This was a commission build, built as a birthday present for my cousin's preteen grandson, who is a big fan of the ship and the movie.





The base kit is the Academy multi colored part Titanic, which "technically" means you don't have to paint anything. Even though this was for a preteen, I decided I wouldn't go that (easier) route, but would dress the model up a bit.




The model was built using two different photo-etch sets from Tom's Modelworks, brass masts and assorted parts from Model Master of Poland and a wood deck from a company called "CY", from China (via eBay). I realized - too late - that I needed to remove some raised bulkheads from around the funnels on the upper decks, so the PE railings for those areas didn't get used. I also didn't use the myriad of photo-etch inclined ladders, as removing the molded on versions would have left holes in the deck.





Photo-etch rings, from Rainbow models, were used to secure the rigging for the funnel stays. This entailed drilling 12 holes in each funnel (6 aside), then gluing the tiny PE rings into the funnels, with corresponding rings glued into holes drilled into the deck. Then rigging all of that. Rigging is a combination of Uschi's "Rig that thing" (for the funnel stays) and Infini line for the minimalist rigging I did on the mast. I added some of the water pipes going from the #3 funnel to the tank room with brass rod, and corrected the size of the after portion of the tank room, with a corrected photo-etch roof included in the TMW set, and plastic card.





Paints were a combination of Tamiya rattle can black, for the upper hull; Colorcoats RN hull red, for the lower hull; and a variety of Humbrol and Testors enamels for everything else. Case and cover provided by Grandpa's Cabinets. Nameplate by JP Awards.





The fit is generally awful, especially on the aft end of the superstructure. If I had to do it again (I won't), I would have used the Revell Titanic as my starting point. The model took me five months to complete, from start to finish. Overall, not my best work, but certainly more than sufficient for a preteen fan. His grandparents (my cousin and his wife) seemed to be pretty pleased with my efforts, when I delivered it to their abode in Gettysburg, PA, after which I got a nice tour of the battlefield for my troubles.
Martin Quinn
---
Gallery updated 7/19/2021


© ModelWarships.com