MS Wilhelm Gustloff
by Peter Fulgoney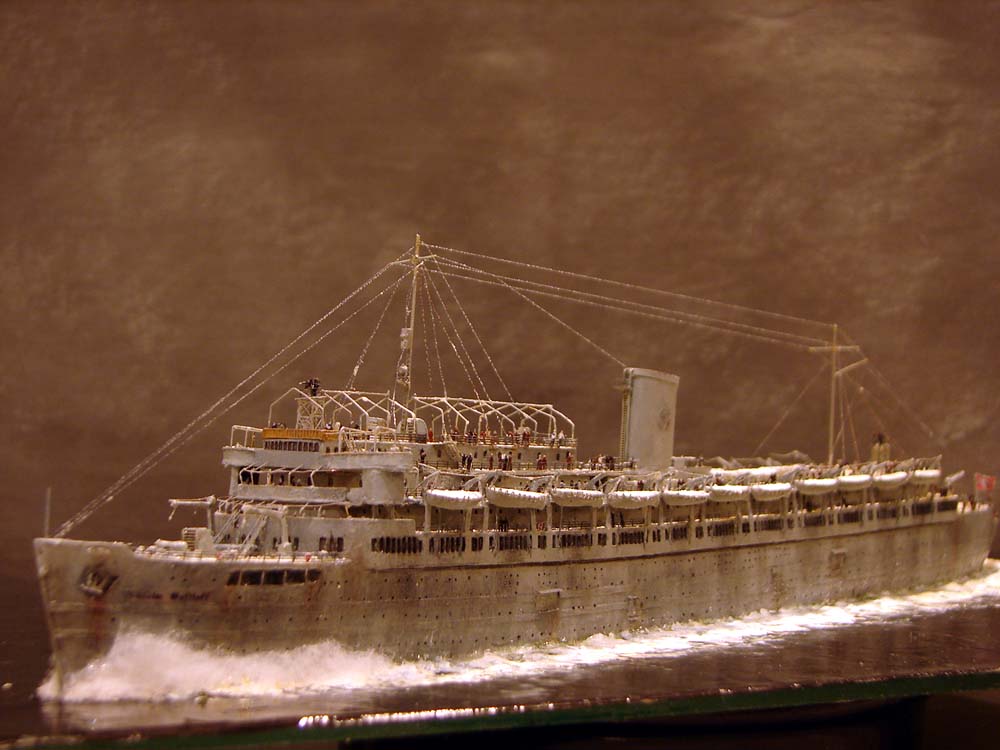 1/700 MS Wilhelm Gustloff (HP Models)
Codename "Hannibal", the sailing of MS Wilhelm Gustloff, 30th January 1945.
Codenamed "Hannibal," the Wilhelm Gustloff's sailing was part of a larger operation to evacuate German refugees from Gdynia to Germany itself in the face of the approaching Soviet offensive. The ship had been in harbour for five years serving various functions but now the time had come to leave.
On 30th January 1945, the day the Gustloff set sail, the Soviet submarine S13 commanded by Cpt. Sasha Marinesko fired torpedoes at her, scoring three hits, sufficient to send the cruise liner to the bottom of the Baltic Sea, timed at 22.18 hours.
Capt. Marinesko was alterted to the presence of the Gustloff as the navigation lights had been turned on to warn other ships in the vicinity of her presence. The four captains present on board were arguing as to whether the lights should be switched on to avoid possible collision with a supposed minesweeping detachment on manoeuvres and there sealed the fate of the ship presenting an illuminated target to the Soviet submarine.
All four captains survived the disaster.
The ship had been crammed full of refugees including German military personnel (the ship had been used as a school to train U boat sailors). The night was extremely cold with the decks covered in ice, and there was snow in the air. The sea was choppy as well and so as many as possible were below decks in these uncomfortable circumstances – mattresses had been brought in to cope with the excess of "passengers" and so these were deployed wherever there was room.
Like Titanic, it is not certain how many people were on board but it is sure that this was the worst maritime tragedy in history. It was considered however to be an acceptable loss compared to the number of people – 2 million – who were trying to flee the fighting.
Together with Capt. Konovalov, the tally reached higher levels with the passenger ship Goya also being sunk with the loss of seven thousand lives on 16th April 1945, and the hospital ship "General Von Steuben" on 9th February 1945 with the loss of three thousand.
So, if the Wilhelm Gustloff is overlooked, what of these other two ships?
---
Here's a project I've wanted to build for a long time, and when I saw that HP Models marketed the kit, I ordered it straight away. Again, as with all older HP Model kits there are issues but with this in mind from the start, I felt I had a chance to get it right without too many mishaps.
I ordered the GMM merchant ship pe from WEM, and got started.
This is where Guido Hopp came in, and very kindly gave me a loan of his "Die Gustloff" DVDs. One set is the TV movie, all in German, and the other is the documentary, also in German but very informative with the lack of any other information.
I also discovered the Wilhelm Gustloff web site which gives a complete history, and showcases a number of excellent models, well worth a visit.
So, why is it that I hadn't heard of this ship whereas Titanic, Lusitania and other ships that met with similar disaster are all very well known, and have been the subject of many films, and books, especially Titanic.
I first came across Gustloff in the Antony Beevor book, "Berlin" where it was mentioned in passing, and it was added that it was the worst maritime disaster – ever! – with the loss of some 7,000 lives – more, many more, who knows, some say up to 10,000 people went down with the ship.
And so, to bring this tragic event to wider attention, I bring you my build of MS Wilhelm Gustloff January 1945, and an interpretation of the tragic scenario. I have given my best guess at some of the more obscure detail to include :
AA guns – 4- 6 positions, I have allowed for 4 x.
Fore and aft platforms – for observation? AA? (these are visible from very blurry photographs of the final sailing – provided by Andy Bowern)
Colouring – I've used so many different additions that I now can't say what I've done but the impression is good as a dirty/weathered light grey.
Lifeboats : covered or open? – I understand that it was snowing from time to time and so I have left the covers on so that snow load didn't become an issue with a possible boat deployment. The book says that 18 cutters were on the sun deck but I have included for additional lift rafts. I have coloured the life rafts grey as I'm not sure how the red/white/grey pattern was presented.
STATISTICS :
Built by Blohm and Voss, Hamburg.
Launched : 5th May 1937.
25,484 tons.
Length : 208.5m.
Width : 23.5m.
Height : 56m.
Speed : 15.5 knots.
1885 passengers and crew as a cruise liner. 8 decks. Only one class.
References :
Die Gustloff –Guido Knopp
"The Cruellest Night" - Christopher Dobson, John Miller, and Roland Payne.
Wilhelm Gustloff site – wilhelmgustloff.com
---

© ModelWarships.com