U-28
by Paul Helfrich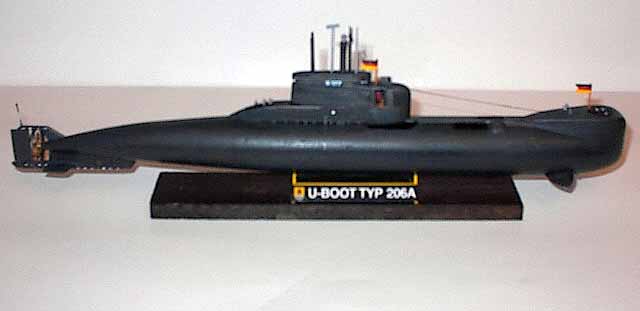 1/144 U-28 Type 206a U-Boat (Revell of Germany)
The Type 206 U Boats entered service in the navy of the Federal Republic of Germany or Bundesmarine in the early 1970s. A number of them were modernized, designated as Type 206"A," and continued their service into the 21st Century.
Variants of the Type 206 design were sold to various navies around the world, including Israel.
Revell-Germany's kit of a Type 206A U Boat comes with decals for four different boats. I built mine as U-28 (pennant number S177) of UBootgeschwader Eckenforde. The kit is excellent - detailing and fit are all of the very high standards one has come to expect from the latest releases from Revell-Germany. Having built a lot of cheaper Asian kits lately that are not quite at the same level, this was a welcome change and a joy to build. The painting instructions are clear and very well-detailed. Decals are accurate and of top quality.
1/144 submarine kits are proliferating lately (witness Trumpeter's new release of a Russian Kilo) and this kit stands well with Revell-Germany's also excellent Type XXI U Boat.
Now, given that they were exported in even greater numbers and remain a signficant weapon in many navies, it would be great if someone would release a kit of the Type 209 U Boat, or the Bundesmarine's latest, the Type 212.
I enjoyed building the DML series of 1/144 aircraft that were released in the early 1990s. I n the last two photos, I've posed the Type 206A with a Bundesmarine Tornado, also in 1/144, to give some perspective on the size of the actual sub and to display some of the front line equipment, sea and air, of the modern Germany Navy.
---

© ModelWarships.com