Surcouf
by David Griot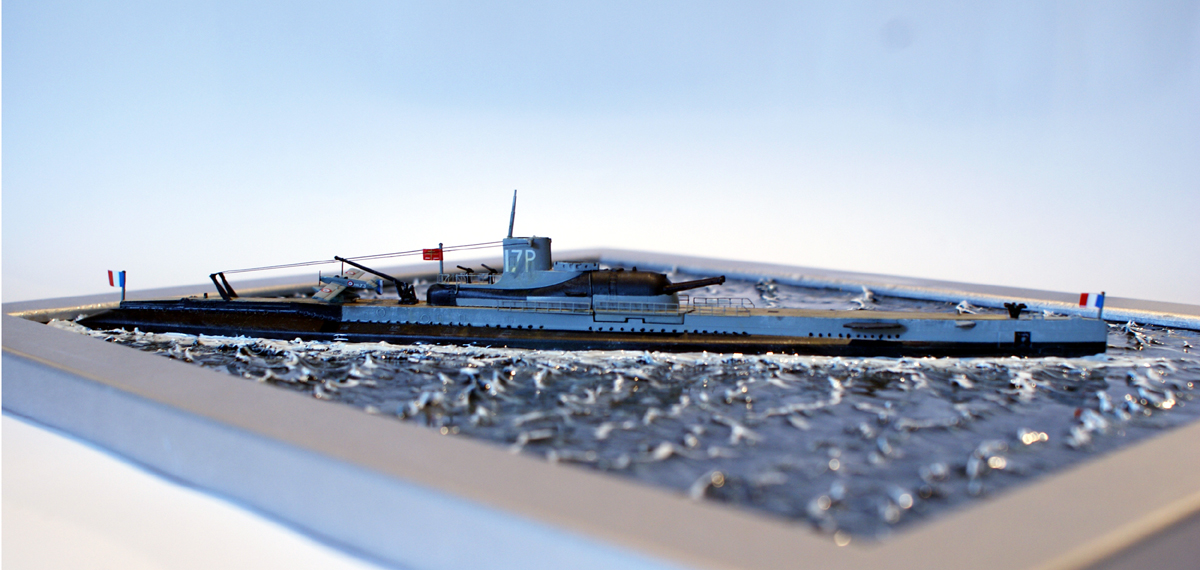 1/400 Surcouf (Heller)
Here is my interpretation of the Heller 1/400 Surcouf Submarine kit. This model is a reissue of an old Heller kit, upgraded with resin and photo-etched parts. The paint scheme doesn't seem to be historically accurate, and I baased my painting on several pictures found on the internet, but except for this, this kit is really good.
The Surcouf was a French WWII Submarine, also called "croiseur sous-marin" or submarine cruiser. This submarine, the largest ever built until the japanese I-400, is 110m long and manned by a crew of 126 men. It is armed with 22 torpedoes on 12 tubes, and is also equipped with a twin 203mm barrel with a 24mi maximal theorical range.
This ship was meant to be the first of a family of 3 submarines, but due to the beginning of WWII, France had no time to build the other two submarines. As for the Surcouf, it's construction has been hurried and many points were not corrected, like the watertightness of the turret.
After a refit at Plymouth, the ship served on the Free French Navy for convoy patrol and was sunk on 18 February 1942, but the circumstances remains uncertain. US Navy said that the Surcouf and the Americain freighter SS Thompson Lykes collided during a very dark night. A French investigation however stated that the Surcouf might have been sunk by an american PBY Catalina which mistook it for a German or Japanese submarine.
---

© ModelWarships.com