HL Hunley
by Maksym Bazhal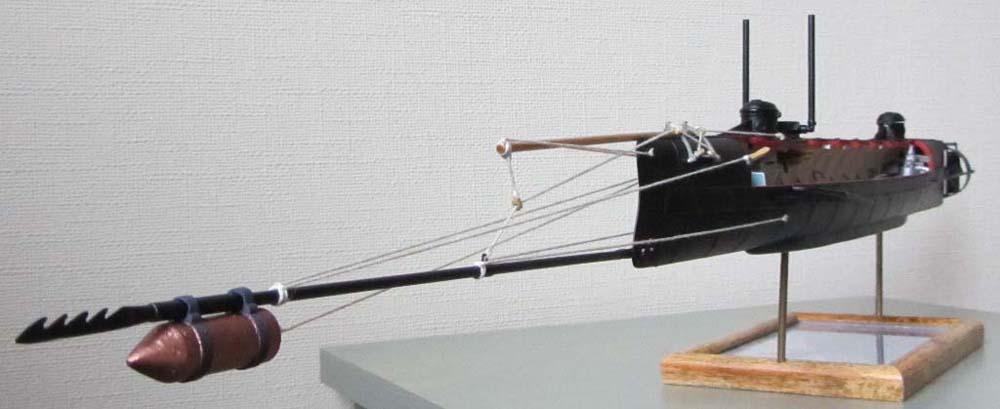 1/72 HL Hunley (Cottage Industry Models)
According to the kit guidance, Iíve made movable air pipes and horizontal planes. In addition to the kit replica, Iíve made propeller able to be turned from hand crank as it was designed for original submarine. Also, Iíve modified the model so that the rudder can be operated using a tiller, control rod, steering linkage and sliding bracket. Both tanks where water was filled in were painted in blue. Total length of 80cm (hull is of 55cm).
The model can be seen here.
Simulation of torpedo attack is shown here.
History:
The Hunley was built in 1863 and sank 2 times during her testing killing 21 crewmen in total. On the night of 17 February, 1864 the Confederate Submarine H.L. Hunley attacked and sank the Union Sloop-of-War USS Housatonic, and became the first submarine in history to sink an enemy warship in combat. At the same time, Housatonic and his killed 5 crewmen became the first victims of submarine attack in history. The Hunley disappeared after the attack killing all 8 of her second crew, including her inventor Horace Hunley himself. They are not sure yet exactly how the crew died. There are many opinions about it, but nothing conclusive yet. The boat was on the surface after the attack. They were signalling the shore party about their success. Most probably, they were suddenly run over by one of the many Union boats rushing to assist the Housatonic's crew. The damage caused by the collision caused the boat to take on water too quickly for the pumps to evacuate, and the crew became trapped. The boat was sealed tight at the time it was lost, so itís supposed there was some unseen damage that prevented them from surfacing. They died of suffocation and the boat slowly filled with water and sediment over the years.
The Hunley wreck was discovered in 1995 and later raised in August 2000 for study and preservation by ďThe Friends of the HunleyĒ. William Blackmore from Cottage Industry Models worked with the recovery organization, and had direct access to the real boat, from which he took his measurements and designs of the model. This kit is the first and only accurate cutaway model available in the world. This amazing submarine replica was created from first hand observations and measurements. It features resin, cast white metal, wood and brass parts. The interior is fully detailed and updated to reflect the latest information about the Hunley.
It was generally accepted as a fact for many years that the submarine propeller was turned by hand by 8 crewmen. This information came from later sources after the war and has been provided in the most references. When the Hunley was finally opened one of the surprises found was the lack of an 8th crewman to turn the crank. There are only 7 stations for the crew, and one position for the Capt (8 people in total).



---
Gallery updated 2012


© ModelWarships.com