USS Gar SS-206
by Damian Petro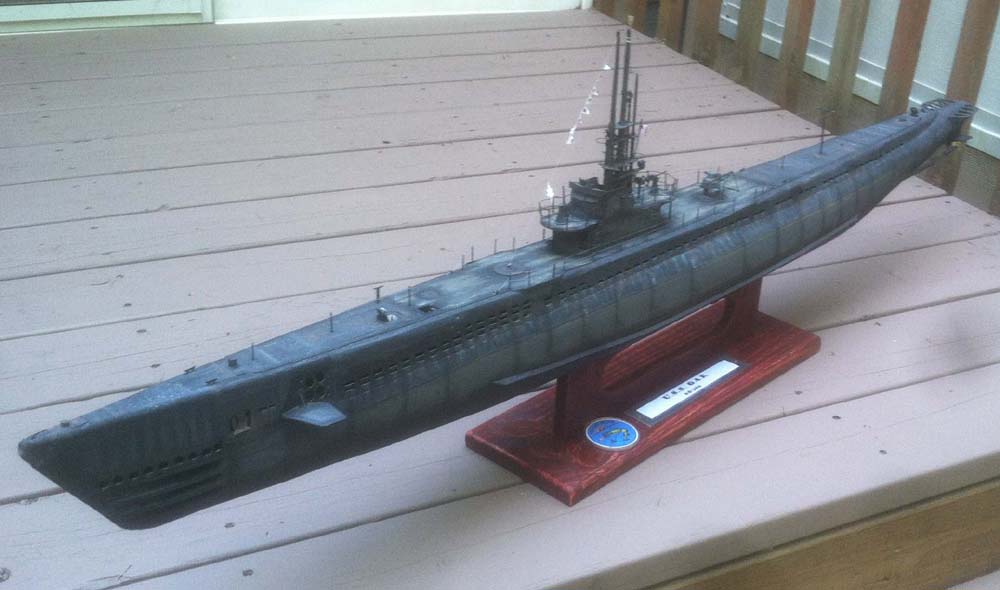 1/72 USS Gar SS-206 (Scratchbuilt)
This is a scratch built model of the Tambor class submarine the USS Gar (ss-206) in 1/72 scale. The model measures out to be a little over 51 inches long and is built out of Styrofoam which was skinned with file folder card stock. I could have used one of the Gato kits in 1/72 scale as a basis, but because of the fact that Tambor/ Gar class subs were slightly shorter in length than Gatos, I went the scratch built route. The model is painted in the measure 9 scheme and is configured the way that Gar would have been in mid 1944.

If one looks closely at the model, a broom is fastened to one of the periscopes. This was a sign to all upon entering port that all torpedoes were fired at the targets encountered. Also of note, a close look at the rigging below the Japanese "kill" flags will reveal a woman's bra fastened to the rigging. Attaching various pieces of women's under garments on the sub's rigging was a sign that the crew was ready for shore leave.

The USS Gar was credited with sinking 8 Japanese ships over 15 war patrols.
---
Gallery updated 8/17/2017


© ModelWarships.com