Gato class submarine
by Werner De keersmaecker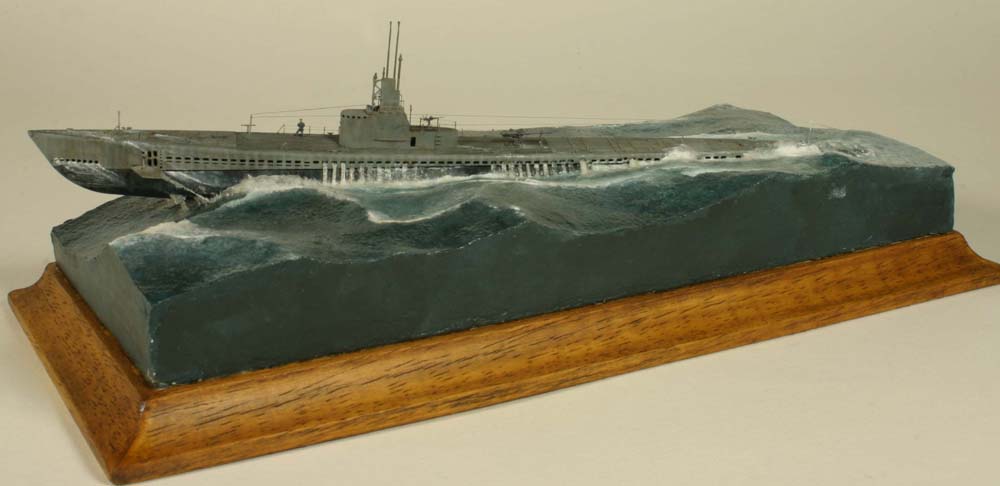 1/350 Gato class submarine (AFV Club)
The model was finished in 2013. Figures are l'Arsenal, the 20 mm gun is from Veteran or Master (don't remember), I hollowed out all the flood holes, needing to reinforce the inner side of the hull, and did some detailing on the conning tower. The 'oil canning' effect on the hull was obtained by scraping (vertical motions) using a rounded knife. I checked the effect by using sandpaper on an airbrushed black base coat.

The railings I created are the PE parts provided in the kit but - once fixed- I decided to cut away the lines (which were out of scale), using only the stanchions. I 'rigged' the railings with stretched sprue instead

The water was created on a styrofoam block, using watercolor paper as top layer. I used several layers of vallejo still water to make the surface hard. Then it was hand painted in various shades of grey, green and blue (Vallejo). Top layer was thinned white paint, simulating the wake, wavetops and foam. Toilet paper, soaked in glossy varnish is used to create the breaking wave tops. The underside of these are filled with 'tumble dryer fluff' (trademark Jim Baumann:)

Last but not least I would thank Mario Eens for taking the pictures.
---
Gallery updated 1/16/2017


© ModelWarships.com