Modeler of the Month:

Jim Baumann

February 2003

Like virtuallly all children of my generation I started modelling firstly by building crude Balsa Model yachts. In actuality, they were more like a rafts, (my inspiration came from the Kontiki/Ra expeditions) mutated with with 1930's J class racing Yachts. I was a nautically confused child.....!! Couple that with a healthy dose of Marklin alternating current stud contact (what an anti-scale idea!!) modelrailway, which to my families horror, I proceeded to weather with paint streaks and coal dust. I was nine and very serious!

I spent the first 12 years of my life growing up in Switzerland on a diet of 1920's Electric locomotives and coalfired(!) Lake paddlesteamers and becalmed sailing yachts. Since there is generally little wind on Lake Zuerich...I naturally had to mimic the elegant lightweather sailing yachts and Riva type motorboats seen on the lakes in modelform (at least my childhood interpretations thereof) and soon gained a taste for all things old (remember there is NO Navy in Switzerland..). I suddenly discovered life in the form of the Airfix HMS Iron Duke 1/600 plastic kit, and promptly stopped messing around with wood and hullshapes that did not want to go my way....

Then I discovered the bi-planes. Oh the fun and frustration of 1/72 Tiger Moths and Sopwith Camels... long before the days of CA glue and adult patience....

My family has always had a affiliation with water; attached please find a photo off my greatgrandfather posing on a PEDALO (waterbike) of his own design and construction, and a photo of HMS VICTORY stern.

I then moved to England where I saw the derelict hulls of the old J-class racing yachts (120' long!!) simply lying around on the shores of the Hamble River, pretty inspiring stuff, and as a result started building passable models of the various yachts (Endeavour, Velsheda Shamrock, etc. have now thankfully been restored to their former glory).Shortly thereafter I was taken to see HMS VICTORY at Portsmouth, followed by a visit to the CUTTY SARK and the maritime museum at Greenwich in London.

How could one NOT become a ship modeller with all these wonderful vessels on ones' doorstep? With regularly scheduled Hovercraft and Hydrofoil services to the Isle of Wight, along with a healthy interest (admit it, obsession) with sailing and yacht racing, I could never become a normal person. I was destined to life of nautical obsession.

Then I discovered Girls..... Fast forward some years...forget nautical obsession, now it's glandular!!!

It was while I was with a girl I had the splendid idea to visit (as an alternative to Pub/Beach/Cinema) the Flying Boat Museum in Southampton. There, displayed alongside a Sunderland and other famous Coastal Command aircraft, was the Supermarine SE5 Schneider Trophy Winning Racing Seaplane; how cool is that? So cool, that immediately afterwards, we RACED (ok, I raced) round to the modelshop where I purchased the Airfix 1/72 version therof which was built that evening and painted (I still have it) and set on a sea base.

The girls came and went, but I was back to MODELMAKING....

Model Aeroplanes, plastic and RC, Racing A class Modelyachts, Vane and RC as well racing real sailboats... I was truly an obsessive....

For awhile, I built a lot of models and saw fewer girls.....

Eventually, I built even more models and saw no girls...... until I met Katrin.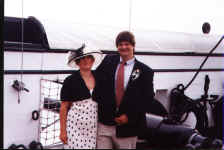 JIM & KATRIN at a wedding aboard HMS WARRIOR
Katrin is a modelmaker's dream come true...in all honesty, I'd say she's every man's dream come true. She lets me play to my hearts content, makes encouraging noises and comes to shows, and NEVER bats an eyelid or complains when yet ANOTHER big parcel comes from Pacific Front Hobbies or White Ensign Models.
So now, I build a few less models, but I've been gifted with a very happy life. HAPPY ENDING!
Unfortunately for the modelship production line, I have many passing interests. Steam Traction Engines, Model and real Railways (steam!), old slow cars and old fast cars (as well as new fast cars).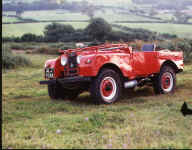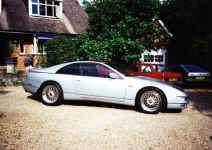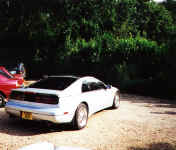 My 1951 series I Landrover, and my Nissan 300 zx Twin turbo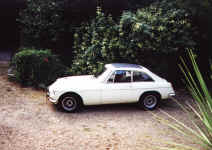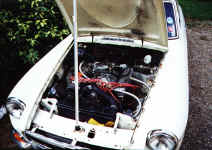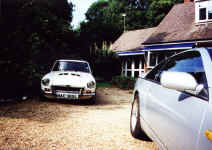 My MGBGT V8 hot rod but looks standard (other than bulged and vented bonnet...)
Other interests are exploring museums, Trams, castles, architecture, travelling around off the beaten track in all the parts of England I never knew existed, flying powerfoil kites and amusing my cats by stretching their patience.....are all things that I enjoy doing to pass time, and that's just for starters!!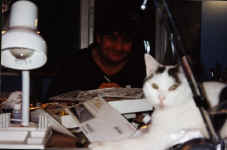 A cat helping me modelling
I earn the means for food and shelter, a brace of cars and the odd modelship (closetful!) with our own business, manufacturing acrylic canvas covers and canopies for sailing and motoryachts, large and small; as a result of drilling holes in boats all day, and talking yachting all day, my own interest in sailing has totally waned to the extent that I sold the sailboat, and decided to concentrate on my ship modeling (not wet and draughty!)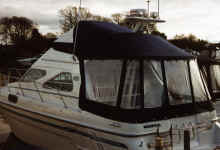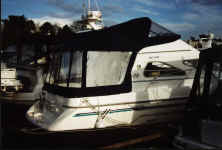 some boatcover pics

In the last 9 months I discovered computers and the internet, ergo www.modelwarships.com where I'm now forced to drag myself away from the computer, to actually BUILD some models!

The present day: I aim to build 4-6 ship models a year. to ever increasing standards of scale fidelity and selfcritique, the more acccurate I try to build, the more scratchbuilding I do, and the slower I produce finished results....Sound familiar....?

I am fortunate that Katrin agrees that the majority of the house can be lined with glass wallcases and showcases, so long as the cats can sit on them...(they are all tempered glass these days..!!). I am also fortunate to have an room dedicated to my modelship workshop with over 1000 watts of lighting available. I am even more fortunate that I still have no requirement for glasses, my hands do not shake, and I can still concentrate for a straight 12 hour session....!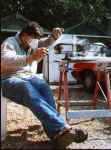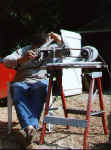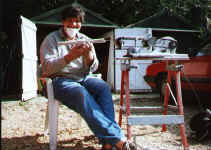 My method of waterlining a resin full hull model (bench mounted beltsander)

An unusual method of ensuring that the topmasts of Tsessaravitch will be straight (note the use of TEAcups!) because the superglue was not being very super on that day, spot the before and after expressions ...

Jim currently has 51 models in the gallery at this time, there's simply too many to list, so click here for Jim's Gallery.

---